Qatar Moves Forward with the World's Largest LNG Project
Qatar has officially selected all its main partners at the North Field East (NFE) LNG project. The future of global LNG supplies will be in hands of Qatar and the US.
.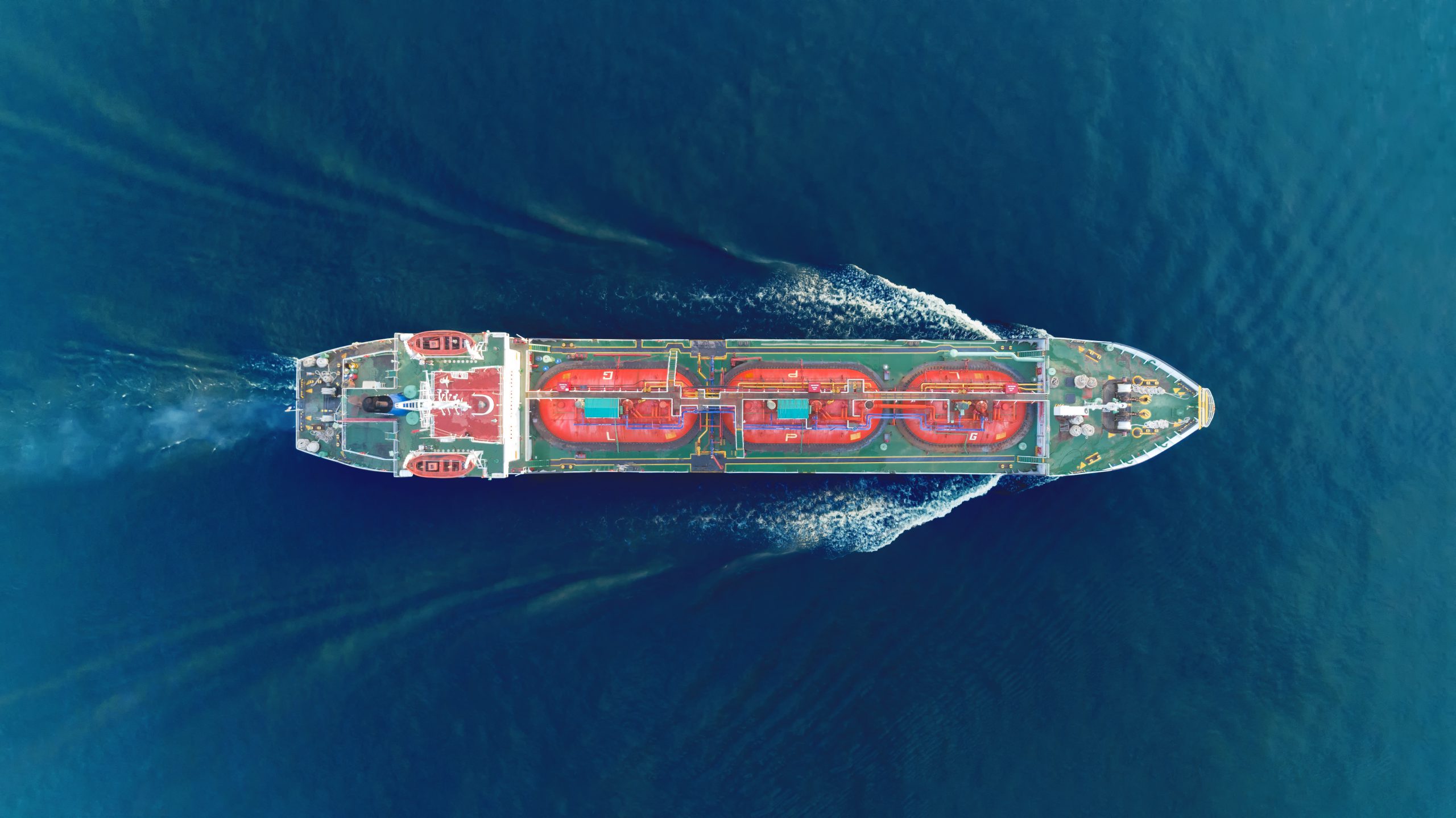 *Qatar has officially selected all its main partners at North Field East (NFE) LNG Project.


*The future of global LNG supplies will be in hands of Qatar and the US.
July 2022
With the latest announcement of Shell joining the North Field East (NFE) expansion project, Qatar Energy – formerly known as Qatar Petroleum – has now officially closed the process of selecting its main partners and is moving forward with the world's largest LNG project. The other selected partners are TotalEnergies, ExxonMobil, ConocoPhillips and Eni. With the exception of Eni, all other companies have previously collaborated with Qatar in development of its older LNG projects. The first phase of the expansion will add 32 mtpa (45 bcma) to Qatar's existing 78 mtpa (109 bcma) production capacity by 2026, whilst the second phase will add a further 16 mtpa (~22 bcma) via two additional trains by the end of this decade.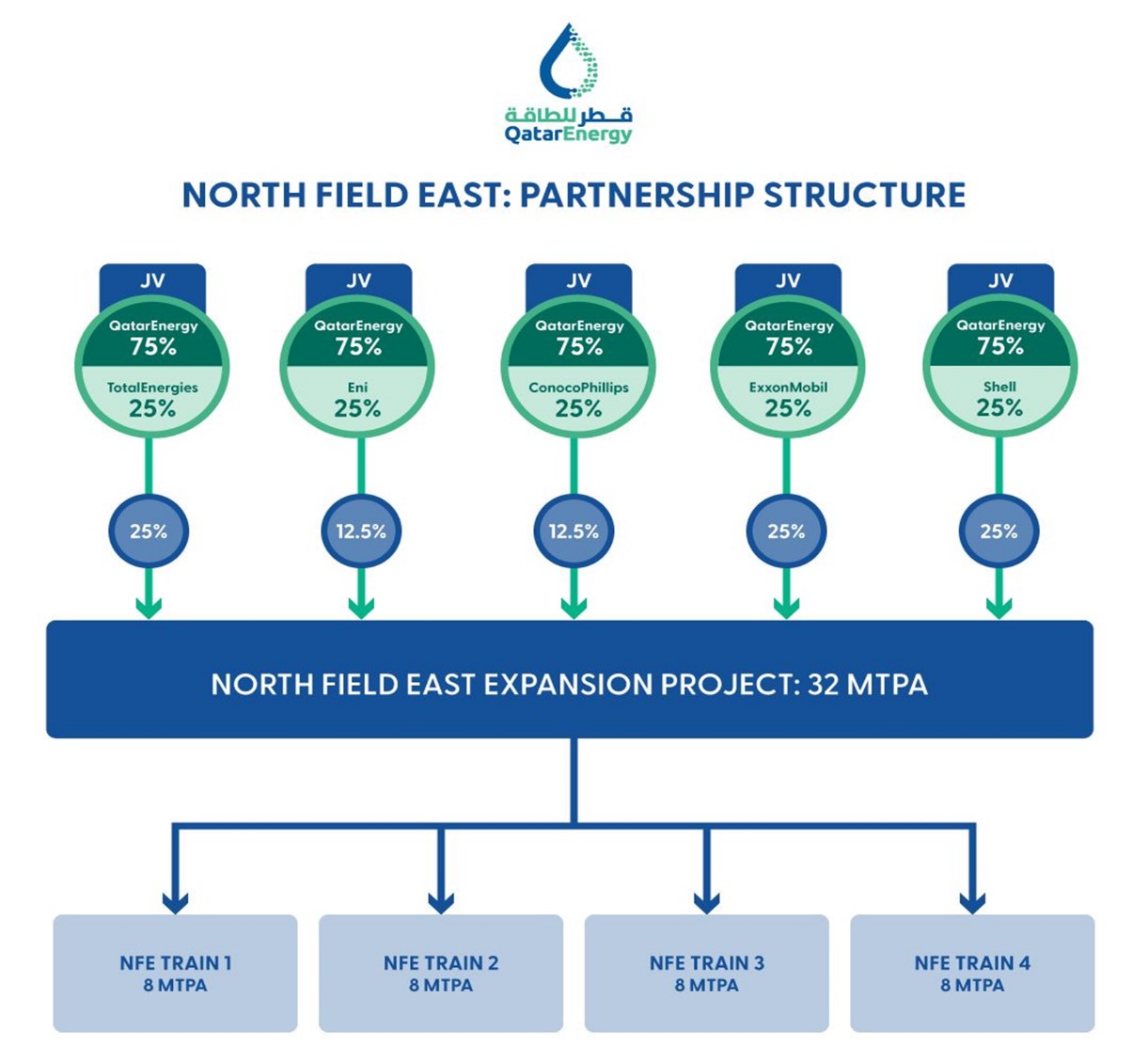 Source: Qatar Energy
Adopting a familiar business formula…
Faced with growing competition from new LNG supplies from the US and Russia, Qatar initially floated the idea of expanding production capacity in 2017, after the removal of a state moratorium on North Field's expansion. The project had a slow start due to depressed energy prices and low appetite from buyers to sign up to new long-term sales agreements. However, by 2021 it gathered pace with the recovery of gas prices, leading to the announcement of the Final Investment Decision (FID) and the award of several engineering, procurement, and construction (EPC) contracts.
In developing NFE, Qatar Energy has broadly stuck with a familiar tried and tested formula. Out of the six short-listed potential partners, five major energy companies have been selected, all of whom had established partnerships with Qatar in previous LNG projects (Eni as an LNG offtaker), reinforcing the industry's perception that Qatar officials attach a high value to these long-term business relationships. Qatar has indicated that smaller shareholders, in shape of Asian LNG off-takers, may join the project at a later date. This too has precedent at previous Qatari LNG projects.
Meanwhile, Qatar has sought to deploy mega trains, each with a capacity of 8 mtpa (11 bcma), over alternative formats. It is the only LNG supplier that uses these giant production trains to leverage on size and efficiency. Qatar is able to combat one of the biggest disadvantages of mega trains – significant loss of production capacity during maintenance periods – by optimizing and driving value from its large LNG portfolio and numerous trains. Being located half-way between Asian and European markets, it is also well placed to take advantage of markets price spreads and competitive transportation costs.
Advantageous all around
The North Field East LNG project will be one of the largest LNG projects to have been undertaken, taking advantage of low-cost gas from Qatar's giant North Field. The initial cost estimate for the first phase of the project, including the upstream part, is estimated at US$29 billion, roughly at US$900/tonne, making it one of the most competitive projects under construction. For a comparison, only the liquefaction part of Corpus Christi LNG phase 3 expansion, which is also a brownfield development, is estimated to cost about US$800/tonne and there will be additional costs to buy the gas from the grid or upstream producers.
Furthermore, in comparison with the US LNG projects, Qatar is more likely to be able to contain potential cost blow-ups – which have dogged the industry in recent years, as one entity Qatar Energy oversees the entire development. Meanwhile, in the US, competition between several projects over resources could lead to a heated market for labour and materials as seen in the previous decade in Australia and the US. Nonetheless, delays and cost overruns will remain a significant risk to all LNG projects under development, with the current LNG construction cycle to be in full force over the next few years.
Little information has so far been released on financing of the project or its breakdown. Based on the published data around JVs' equity ownerships, Shell, TotalEnergies and ExxonMobil are expected to have acquired 2 mtpa (2.8 bcma) of offtake each, whilst Eni and ConocoPhillips will have 1 mtpa (1.4 bcma) each. The absence of any major precursory gas sales agreements prior to the investment decision strongly suggests that the project is mainly backed by the financial might of Qatar Energy and its partners. Here, Qatar has departed from its traditional business conduct of securing long-term (often oil-indexed) contracts with Asian buyers prior to taking investment decision.
Green credentials in focus
Qatar has also strived towards increasing its green credentials and lowering its carbon footprint by investing in Carbon Capture and Storage (CCS) facilities – powered by solar energy – as well as increased reporting on its carbon emissions (although it has fallen short of committing to specific levels for now). It is also looking at revamping its LNG fleet to run on LNG as opposed to heavy oil fuels. Overall, Qatar Energy aspires to reduce the carbon intensity of its LNG plants and upstream facilities by 35% and 25% respectively by 2035.
Final note
Qatar LNG expansion has been in the making for the last few years and many elements of North Field LNG Expansion projects remain broadly in line with market expectations. With a staggering 126 mtpa (176 bcma) of LNG production capacity at its peak, the project will establish Qatar's place as the de-facto LNG supplier of the world, a remarkable achievement for this small nation. Qatar's additional LNG supplies will play an important role in balancing global gas markets in the second half of this decade. This is particularly important as Russia's West Siberian new LNG developments have ground to a halt due to sanctions, leaving the future global LNG markets firmly in the hands of Qatar and the US. (Contact us for a detailed view on long-term global LNG supplies).
It is noteworthy that the giant gas field feeding into Qatar's LNG apparatus – North Field – is jointly shared with Iran (South Pars on the other side of the border) which currently supplies approximately 70% of Iranian domestic demand and has no gas export potential (its condensate is being exported). The 60% increase in Qatar's production capacity comes at a time when production on the Iranian side has said to have entered a period of decline due to chronic lack of investment in recent years. A race which was once closely watched by both sides has a clear winner.
To ask any questions or discuss your requirements please contact us at
info@mithras-analytics.com
.