Regas Capacity Back at Forefront of Europe's Energy Security
Europe's imports of LNG have risen sharply but are now being constrained by the amount of regasification capacity available.
Europe's imports of LNG have risen sharply but are now being constrained by the amount of regasification capacity available. Europe is planning to rapidly expand regas capacity, possibly by as much as 40% in the next four years, by using floating regasification and storage units (FSRUs), which offers a quicker route to the market. Two observations are noteworthy: it is unlikely that significant regas capacity can be added in time for the crunch period this winter. And the focus on short-term solutions such as FSRUs is a strong indication that European policymakers view LNG as a short-term solution to the current energy crisis, whilst looking at speeding up renewable production and net zero targets in the long run.
July 2022
Throughout the last decade, European gas markets had been closely watching the rising tensions between Russia and Ukraine and the renewal of the gas transit agreement. With the invasion of Ukraine at the beginning of 2022, tensions have escalated into a broader and longer-lasting standoff between Russia and the rest of Europe, threatening the entire gas flows via main import routes and leaving European energy markets in turmoil. This has prompted European leaders to look more carefully at where Europe sources its energy from.
In the short term, European leaders are left with few supply options to tackle gas crisis and LNG is one of them. However, LNG imports have recently been constrained by a shortage of regas capacity in European markets and sellers and buyers have struggled to secure regas slots amid pressure to meet gas storage targets this year. Intense competition for slots has driven auction capacity prices to the unprecedented levels of US$25/mmbtu or more during the months of April and May.
Several European countries have announced plans for a significant expansion in their existing capacity, mainly via the acquisition of FSRUs. Some of these plans have been in the making since 2019, when a combination of abundant flexible LNG supply from the US and favourable spreads brought European regas economics back in the money. Except for 2020, when European energy demand slumped during the Covid Pandemic, regas utilisation has been climbing since 2019 and the capacity bottleneck has turned into a major stumbling block in the path of Europe's energy security.
There are now plans for a 40% increase in Europe's regas capacity over the next four years (our numbers include Turkey). Over 80% of it will be via FSRU terminals, compared to only 11% of the existing regas capacity being supplied via FSRUs. Chartering FSRUs offers a quicker route to the market compared to onshore terminals that can take up to five years to build. But it could also indicate that European policymakers view increased LNG imports as a short-term solution to the current crisis and will likely want to diversify away from fossil fuels in the long term. In the meantime, the sheer size and speed of these regas capacity expansions will have a far-reaching impact on the LNG industry's supply chain.
Regas capacity back in the money and precious
European Regas terminals were under-utilised for much of the last decade due to unfavourable global LNG price spreads that had made the economics of LNG imports into North West Europe – also known as the market of the last resort – unattractive. However, by 2019 regas utilisation was back in the money due to converging spreads, a growing flexible LNG supply from the US looking for a home and stagnant gas demand in Asia, particularly in LNG intensive markets such as Japan & South Korea.
One of the more reliable ways in which the economics of NW Europe LNG imports can be analysed is by comparing front month Asia spot prices vs TTF front month as strong Asian demand often pulls away LNG from Europe. As can be seen from the chart below, during the periods where Asian prices rise above European prices, LNG imports into Europe fall. Conversely, the convergence of prices triggers stronger imports to Europe. However, the recent market developments have structurally changed the fundamentals of the gas markets, with TTF sustaining a significant premium over Asian prices due to the loss of Russian supplies. Consequently, imports have risen significantly, but are now being constrained by insufficient regas capacity on the continent, placing North West European DES LNG prices at a large discount relative to TTF hub prices. NBP prices, on the other hand, settled at lower levels due to NBP's access to spare LNG import capacity.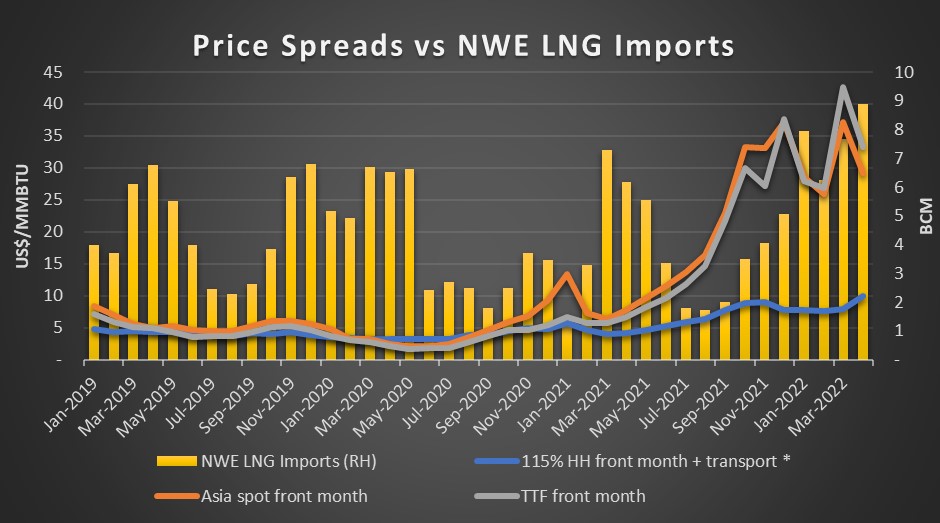 * Shipping costs are on the basis of USA South East to North West Europe estimated by Mithras Analytics' shipping cost model
** Front month prices are daily prices averaged out for the month
Source: Mithras Analytics
High terminal utilisation across Europe
In the first four months of this year, the average utilisation at many European LNG terminals has been close to 80% or higher. Spain and the UK, two of the largest regas capacity holders, have been the only exception as limited interconnection or regulatory factors have restricted the European continent's ability to draw on these spare capacities. Spain is poorly connected to the rest of Europe – only via France with limited pipe capacity.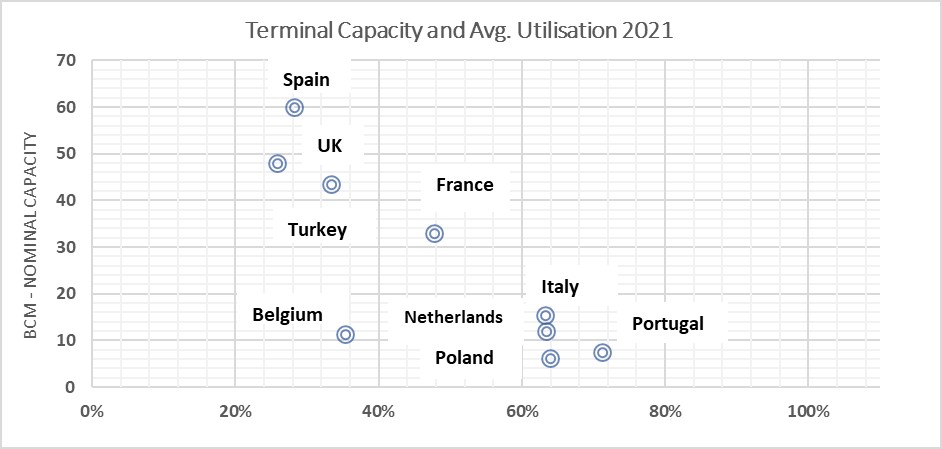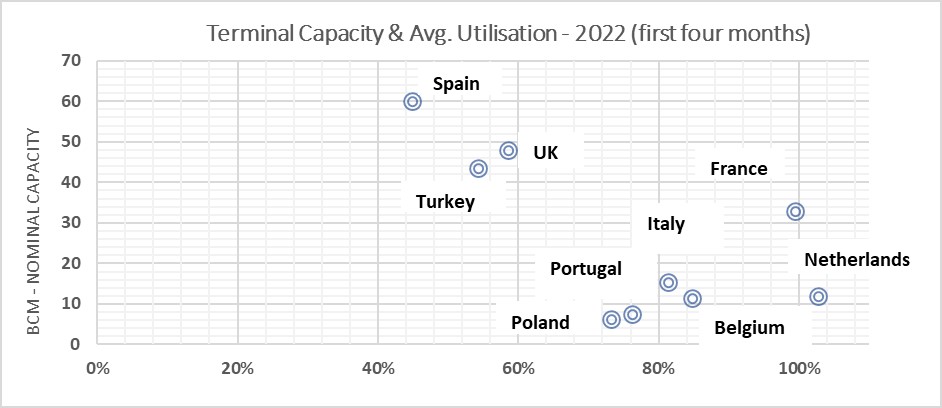 Source: Mithras Analytics
Germany is a late comer to the regas markets. Pressed by the impending threat from disruptions to Nord Stream and winter shortages, the German government has recently ditched its plans for a large onshore terminal and sought to charter four FSRUs with a combined capacity of up to 28 bcm (~ 50% of Nord Stream-2's capacity) with some capacity said to be available as early as 2023. If successfully commissioned, this will be an astonishing project turnaround for Uniper and RWE, the two operators involved, as FSRU projects typically take at least 24 months to complete. Additional investments will also be needed to take the re-gasified LNG further inland to the markets that are facing acute gas shortage such as Austria and Czech Republic.
Over 80 bcm of regas capacity via FSRUs
Prior to 2022, Europe's regas capacity (including Turkey) stood at just over 250 bcm/a – coincidentally around the total nominal capacity of Russian gas pipelines into Europe. FSRUs accounted for just 11% of the total nominal regas capacity. Following the Russia-Ukraine conflict, Europe's efforts to expand its regas capacity gained a sudden urgency, with many European countries fast-tracking plans to create additional regas capacity. According to GIE, as on April 2022, an addition of ~100 bcm of nominal regs capacity is planned between 2022 and 2025, over 80% of which will be through FSRU units.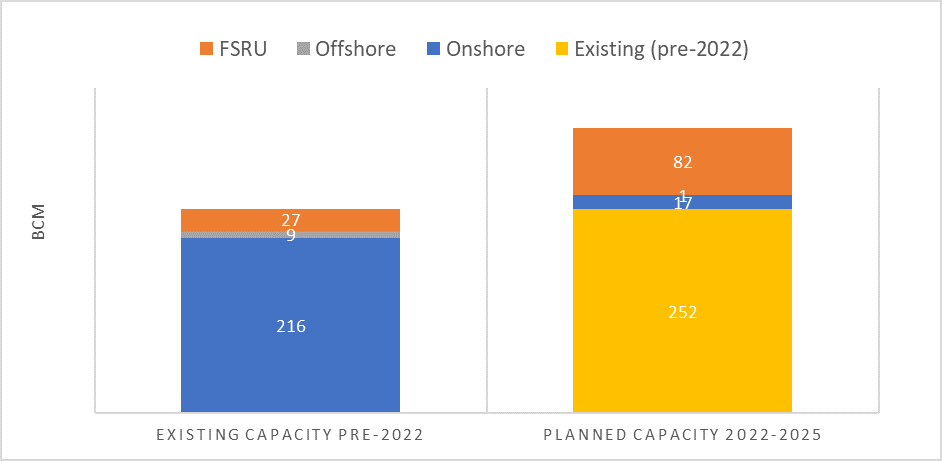 Source: GIE, Mithras Analytics
Flexible FSRUs with their lower lead time offer a clear advantage over onshore facilities which can take up to five years to build. But the widespread selection of FSRUs over permanent onshore terminals could also indicate that Europe sees LNG imports as a stop-gap to tackle the current gas crisis and not a long-term path to its energy supply security. Europe will likely plan to speed up renewable generation and lower the share of fossil fuels from its energy mix by 2030 in line with climate change goals.
It is also noteworthy that as European countries rush to secure available FSRUs, it will have a knock-on impact on the wider LNG industry. For example, it can derail smaller markets' planned LNG import projects, some in the shape of "FSRU to power" projects. It will also further tighten the LNG shipping market's spare capacity, leading to volatile charter rates and higher transportation costs particularly in Q4 and Q1. Shipyard orderbooks are already said to be booked up with pre-ordered LNG vessels for new LNG projects, a strong demand for FSRUs and LNG tankers in recent months in addition to a surge in demand for cargo ships. Furthermore, shipyards are facing their own supply chain problems, so it is entirely conceivable that many of these planned FSRU projects in Europe will slip their envisaged timeline, despite a strong government backing.
To ask any questions or discuss your requirements please contact us at
info@mithras-analytics.com
.